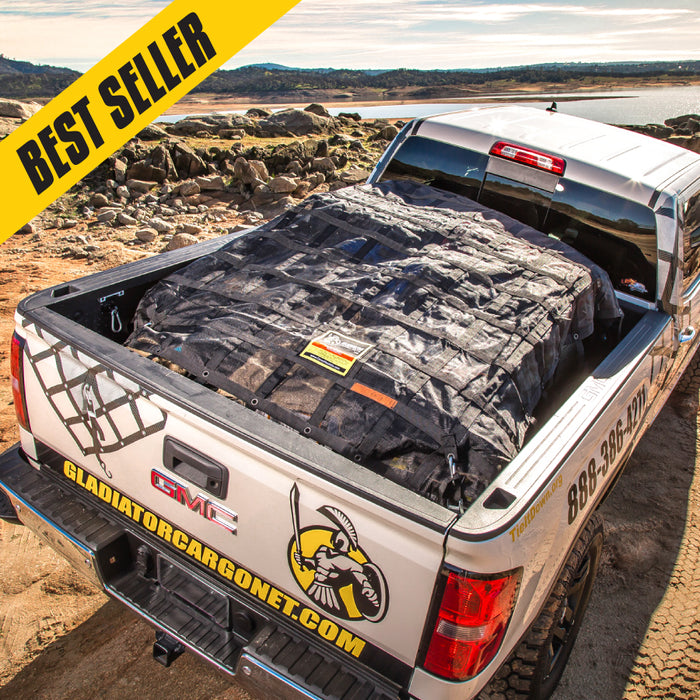 Gladiator Cargo Net
Original price
$0.00
-
Original price
$0.00
The Best Cargo Net on the Planet!

Preferred by top fleets for being heavy-duty, versatile and easy to use. All our nets come with four attachment straps and a storage bag. 
Used by the DOT and NACSS approved
Eliminate the risk of a hefty fine and reduce your chances of losing cargo by keeping your loads covered and secured with the Gladiator Cargo Net. Used by large and small fleets across the country it is the highest rated cargo net on the market. It has earned this by being easy to use, incredibly strong and durable.
Exclusive PowerMat

®
What truly separates a Gladiator from all other cargo nets is the patented "Over-The-Top" PowerMat

®

, a specially designed section of extruded, UV, water and chemical-resistant ripstop mesh fabric that's integrated into the cargo net. This revolutionary design, in which there are connection points at every junction, adds system strength, enhances cargo coverage, makes net deployment easier and reduces tangling. And it's only available on a Gladiator!
Premium "Tough Stuff"

®

Polypropylene Webbing
The heavy-duty "Tough Stuff" polypropylene webbing used in a Gladiator Cargo Net will not absorb moisture like the nylon or polyester webbing used in other cargo nets. This water resistance allows for UV treatment that results in an incomparably strong product that readily withstands long-term exposure to the elements (we even use UV-treated heavy-duty thread). Plus, we employ triple-layer reinforced edges with four layers on the corners for maximum performance and durability. 
Ample, Durable, Lightweight Coated-Brass Grommets Design
With Gladiator you get many more grommets per yard than on any other cargo net. This gives you countless more options to better secure your load. And, to do this without adding undue additional weight, we use premium, coated brass grommets that are both exceptionally durable and extremely lightweight. 
 Additionally, multiple grommet attachment points around the perimeter allow for:
Larger sizes to be naturally made smaller

Tighter angles for odd loads

Secures at multiple points
Tangle-Free Construction

Perhaps the biggest hassle with cheap cargo nets is the fact that they are prone to tangle, some to the point of being unsalvageable. Gladiator's unique design, with the mat and webbing being connected, virtually eliminates tangling and makes use and storage exceptionally easy. 
Premium, Over-Sized Carrying Case
We make it easy to keep your easy-to-fold-and-store Gladiator Cargo Net handy by including an over-sized carrying case into which Gladiator easily fits. And, the case features a high-end, smoother operating zipper, too. 
Included Attachment Strap Hardware
Every cargo net comes with four heavy-duty straps. The hardware hooks are rubber coated to protect your vehicle. 1.5" inch thick straps which extend from 10" in - 3' ft.
Double-Cover Cargo Nets
Integrated, rip-stop meshing prevents snags and secures small objects.

High strength, weatherproofed material and quality construction create a durable, heavy-duty product.

Many securement points make for great versatility

Secures odd sized loads

Net coverage can be made larger or smaller

Grips your load under tension

Distributes the load over a large surface area: no more broken cargo

278 pound per square inch non-continuous tear material

Fast and easy single person operation that saves you time and frustration
The best restraint possible for your cargo and peace of mind when you're on the road. 
Many years of heavy-duty use creating a high value for your dollar.
Working Load Limit (WLL): 1,500 lbs
Warranty/ Returns One year limited warranty
The Gladiator Cargo Net is a patented product: 8292559
*Formerly the Gorilla Cargo Net.
Nothing Keeps Cargo Contained Like A Gladiator