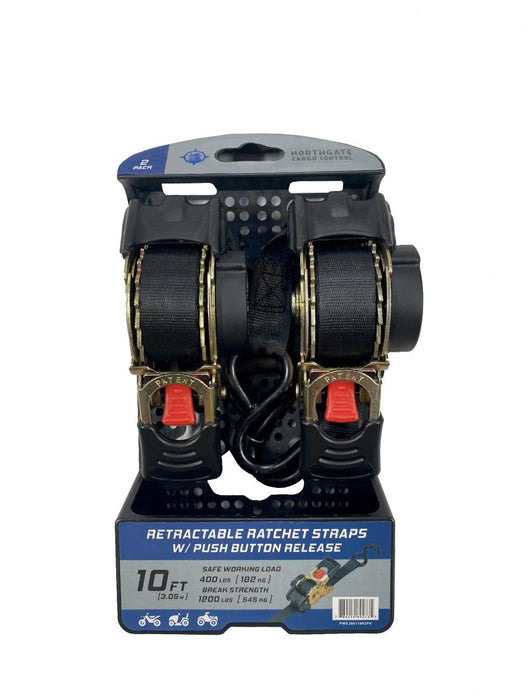 S-Hook Retractable Ratchet Straps 1"
Original price
$0.00
-
Original price
$0.00
S-Hook Retractable Ratchet Straps 1" (2-pack)

RETRACTABLE! No more dealing with tangled straps bundled up in your truck bed or under your seats! Quick and easy one-button operation allows you to simply recoil your excess strap for convenient storage. 
Light-duty Ratchet Strap attachment allows you to easily anchor your cargo to your vehicle. S-Hook hardware version.
Strap Style: 1" wide Polyester webbing
Securement Style: PE coated 

S-

Hook attachment with Ratchet

Working Load Limit (WLL):

 400

 lbs.
Length:

 

10' ft
Weight: 1.65 lbs (each)
Features and Benefits
Meets all U.S. DOT, FMCSA, and CVSA regulations
Low stretch polyester webbing allows for more secure cargo control
All hooks and chain assemblies equal or exceed webbing strength
Lightweight and easy to handle
Safe Operating Practices
Inspect tiedown straps and all hardware when the load is first being secured
Re-tighten tiedowns periodically during use
Never use Ratchet Straps for anything other than securing cargo. Do not use for lifting loads or towing vehicles.
Loads should be securely blocked and stabilized before tensioning the straps
Never exceed rated capacities
Use caution when tossing straps over a load
Check installation of portable winches- the ratchet pawl must be at the top of the toothed wheel and bolts tight against the rub rail
All hardware must be in line with the direction-of-pull to achieve full strength
Prolonged exposure to UV light adversely affects synthetic webbing. Tiedown straps may become bleached and/or stiff when exposed to excessive sunlight or arc welding.
*Intended to be used in addition to Gladiator Cargo Net products. NOT intended to be used directly to cinch down Gladiator Cargo Nets.